About the Performers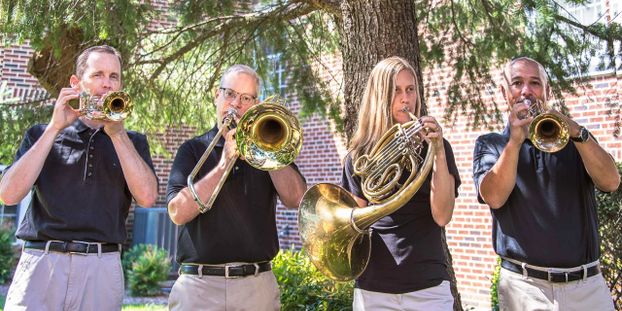 Robert Couto

, a native of New Bedford, Mass., was a member of the United Sates Navy Band from 1992 to 2016. He earned a Bachelor of Music from The Hartt School of Music in 1989 and a Master of Music from The Juilliard School in 1991. He has performed with the Hartford, New Haven, Maryland and Annapolis Symphony Orchestras as well as the Berkshire Opera Company, and has also appeared with notable conductors Leonard Slatkin, Kurt Masur and Zubin Mehta. Couto is a former member of the Fairfax Symphony Orchestra and the George Washington Faculty Brass Quintet. His teachers include Ray Mase, Chris Gekker, Roger Murtha and Tim Morrison.
Frank Gazda

is Professor of Low Brass at Delaware State University. He has performed with, among others, the Delaware Symphony, the Kennedy Center Opera House Orchestra, the Sioux City (IA) Symphony Orchestra and Brass Quintet, and the Maryland Symphony Orchestra and Brass Quintet. He has also performed at the International Trombone Festival, and with the Mormon Tabernacle Choir, the Jimmy Dorsey Orchestra, the Washington Trombone Ensemble and The Supremes. Dr. Gazda received his Bachelor degree in Music Education from Shenandoah Conservatory, his Master of Music degree from the Manhattan School of Music, and his Doctorate in trombone performance and literature from the University of Maryland.
Patrick Hoffman

completed the degree of Bachelor of Science in Business Administration from the University of Illinois. He followed his dream to make music more than a hobby by earning a Masters degree from Indiana University in Bloomington, Indiana, and a Doctor of Musical Arts degree from the University of Georgia in Athens Georgia. As Associate Professor of Music at Delaware State University, Dr. Hoffman teaches Applied Trumpet and is Director of Brass Ensembles. Prior to his appointment at DSU, he held a similar position at Minot State University in Minot, North Dakota. Before he began teaching, Dr. Hoffman lived in Hof, Germany where he performed as a member of the Rekkenze Brass Quintet and as Assistant Principal Trumpet of the Hof Symphony. With Rekkenze, he toured Europe and the United States, and recorded the CD "Puppet Dances."
Sara Hoffman

holds degrees in horn performance from the University of Georgia (Bachelor of Music, cum laude) and Yale University (Master of Music). As a student at the University of Georgia, Sara was a featured soloist with the UGA Wind Symphony, performing Strauss' 2nd Horn Concerto. She was also a member of the Georgia Brass and the Odyssey Brass Quintet. Sara received a scholarship to attend Yale University, where she served as a graduate teaching assistant. While attending Yale, she won the third horn position with the Waterbury Symphony. After completing her masters she won a position with the Hofer Symphoniker of Hof, Germany. Upon returning to the US, Sara performed with the Albany Symphony before moving to Minot, ND. She spent four years teaching horn and music theory at Minot State University, in addition to playing principal horn with the Minot Symphony Orchestra. In 2006, Sara returned to the East Coast. She is currently an active freelancer in the Delaware and Philadelphia area. Sara and her husband Patrick live in Dover, DE with their three children.